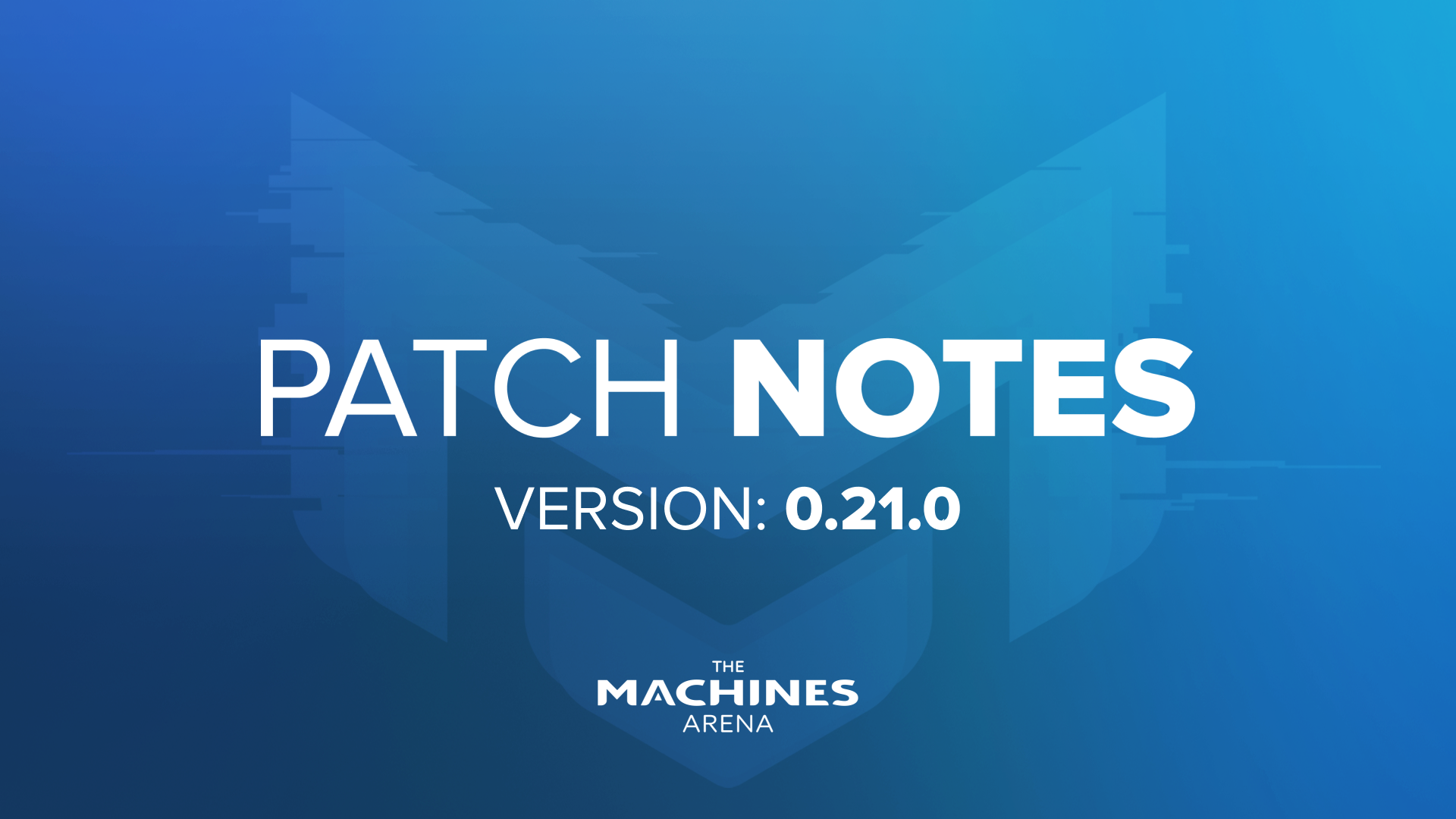 06 Jul 2023
PATCH NOTES 11/07/2023
Version: 0.21.0-7748
Closed Beta Rewards
Collectible character skins that players can unlock by earning XP on their account. Account XP is earned by playing Quick Play and Death Run matches.
1x Mercenary Bravo Zulu skin, unlocked when the player reaches Level 25
1x Urban Commando XE skin, unlocked when the player reaches Level 50
1x Desert Ranger Tesla skin, unlocked when the player reaches Level 75
1x Demo Daye skin, unlocked when the player reaches Level 100
Loyalty Rewards
Collectible character skins that are reserved for our early adopters.
1x Royal Guard Nightcore skin for all our early adopters who joined us up until this release.
1x Rustic Pyro skin goes to our Old Guard alpha testing community
1x unique Champions Sigil 2021 stamped golden Pyro skin to the official TMA Championship Tournament 2021 winners, Copenhagen Flames.
1x Chrome Daye skin reserved for content creators
Death Run Gameplay Changes
Battle through 20 levels and try for the highest score.
Meta Map
Choose your route for a high-risk, high-reward game or go the safe route and risk facing the bosses under-powered.
When exiting a room, a meta map will appear with a room map layout of the current biome
5 difficulties
1. Very Easy
2. Easy
3. Normal
4. Hard
5. Very Hard
Can only go one difficulty up or down from the current room
Can't go from a Very Easy room to a Normal, Hard or Very Hard room
Can't go from a Normal room to a Very Easy or a Very Hard room
Impacts the dropped items and the score you get.
XE
Introducing XE
XE character is the protagonist in Death Run
XE Weapon Balance Pass
Reworked the base stats and the upgrade stats for both weapons available to XE
SMG
Base Stats:
- Reload Time: 1.0 seconds
- Damage: 2
- Max Ammo: 30
- ROF: 1 round every 0.07 seconds
By level:
- Damage: +0.4 per shot
- ROF: -0.0025
- Max Ammo: +5
Sniper
Base Stats:
- Reload Time: 2.0 seconds
- Damage: 20
- Max Ammo: 5
- ROF: 1 round every 0.7 seconds.
By level:
- Damage: +6 per shot
- ROF: -0.005
- Max Ammo: +1
Familiars
Grab a buddy for emotional support as you face the hoards trying to take you down.
Select a familiar when entering Death Run
Follows you around
No gameplay effects (yet)
Death Run Weapon and Ability XP
Creating your ultimate build has never been easier.
Unlock new abilities by earning XP within a run
Unlock level-ups for equipped abilities and weapon by earning XP
Gain 30% extra XP to either the weapon or ability XP track based on which was used for the final blow
Death Run Timer
"No more time out!" is a slogan we are trying out.
Timer counts up, instead of down. Players can no longer lose a match by running out of time.

Death Run Score Submission
Your performance is now a matter of record.
Always submits a score when the run ends, even during death.
Armor
If taking damage is inevitable, why not take less damage?
3 types, light, medium and heavy
Damage reduction (10%/20%/30%)
Affects movement speed (5%/15%/25%)
Buying armor replaces the old one if one is already equipped
Shields
Pad your health pool with the latest advancements in personal protection.
3 versions, small, large and rechargeable, recharge kicks after not taking damage for a set time (5s)
Regenerative shields recharge between rooms but small and large do not
Extra hit point pool (50hp total / 150 hp total / 25 hp regenerating)
Small and Large shields can be refilled at the Kiosk for 1 credit per 2 hp.
Buying a new shield replaces the old one if one is already equipped
Death Run Difficulty Balancing
We've played around with the numbers and come to a conclusion that should lead to a much more engaging experience.
Other Death Run Gameplay Changes
Choosing XEs' weapon:
Chosen at the start of a run and can no longer switch weapons during a run
When finishing a room only one exit will appear that will take the player to the meta map
Room rewards have been removed as they have been replaced with weapon and ability XP system
Kiosk
You can now buy upgrades for weapons and abilities in the kiosk
Can increase weapon damage, ROF and clip size based on weapon
Can upgrade existing abilities but you cannot buy new ones
Price increases each time an upgrade is purchased
Can buy shields
- 50 / 100 / 200 cost for small / large and regeneration
Can buy armor
- 100 / 150 / 200 for light / medium / heavy armour
Can still upgrade stats
PvP
New map: Blacksite
The new map is added to the map pool rotation
Push back game mode
Balance
Pyro
Flamethrower
- Max ammo 50 > 30
- Burn damage ratio 0.75 > 0.5
- Reload time 1s > 1.5s
Molotov grenade
- Duration 5 > 4 sec.
- Burn effect duration 3 > 1 sec.
Healing per second for pyro in flames 30 > 40
Devol
Boomstick
- Reload time 1 > 1.5s
Ozymandias
Crossbow
- Reload time 1 > 1.5s
Tesla
Lightning Rifle
- Reload time 1 > 2s


Backend Inventory Management System
Implemented a backend system to track and verify ownership of in-game items such as character skins.
Enables unlocking of skins for players
Can now equip unlocked character skins in the Hero Gallery nested in the Main Menu
Bug-fixes
Bug-squashing galore relating to the new features
Fixed character not re-spawning if the player didn't explicitly select a character but allowed the game to randomly select a character
Misc
Updated game engine to Unreal Engine 5.2
Exposed the players' ID to players. Located in the bottom right corner of most in-game screens.
Changed Ozymandias Cross Icon from red to green to conform with the Geneva Convention. (War crimes bad)
Known Issues
Lighting in character selection and in the end-of-match screens is too dark; a fix is already planned for the next update.